About Spring Mill State Park
Things to know about Spring Mill State Park: It is open every day, year-round, from 7 am to 11 pm. (However, some park features have reduced hours and are only open seasonally.)
All visitors to Spring Mill State Park must pay the daily entrance fee or produce an annual entrance permit. Even campers and Inn guests must pay a one-time entrance fee (or produce an annual entrance permit).  If you are staying at the Inn or camping then you get a pass to get into the park for free (during your stay) after you pay that first time.
$7.00 In-State Daily Entrance Fee
For noncommercial vehicles with Indiana license plates, every day including holidays. Admits driver and passengers.

$9.00 Out-of-State Daily Entrance Fee
For noncommercial vehicles with out-of-state license plates, every day including holidays. Admits driver and passengers.


$2.00 Daily Fee
For each person, 5 years old and older, entering as a pedestrian, on bicycle or horseback.

Passenger Vans/School Buses with no Scheduled Group Program/Motorcoaches/Commercial buses
$2.00 per person, ages 5 years and above.

Groups with program reservations
$1.00 per person program fee.

$50.00 Annual entrance permit
Admits noncommercial vehicles, driver and passengers to DNR properties that charge a gate fee.* Good from January 1, until December 31, of the year issued. You can buy annual permits from The Mother Nature's Mercantile

$70.00 Non-resident annual entrance permit
Admits non-Indiana resident noncommercial vehicles, driver and passengers to DNR properties that charge a gate fee.* Good from January 1, until December 31, of the year issued.

$25.00 Golden Hoosier Passport
For Indiana residents who are at least 65 years of age or a resident eligible for Social Security disability payments under 42 U.S. C. 401 (proof of eligibility must be presented at time of purchase and disabled individual must be present in the vehicle at time of use); admits noncommercial vehicle, driver, and passengers. Good from January 1 until December 31 of the year issued. Price is 1/2 the Resident Annual Entrance Permit.*

Golden Hoosier Permit Special Cases:
Indiana residents who are former POW's or their surviving spouses are entitled to a free Indiana Golden Hoosier Permit. These are mailed automatically at the beginning of each year. Direct questions to jplanck@dnr.in.gov

Indiana residents who qualify for a DAV1 or DAV2 license plate, may purchase an Indiana Golden Hoosier Permit regardless of age. Please present a completed form 32584 (Certificate of Eligibility for Veteran License Plates) at the time of purchase.

*DNR Annual Entrance Permits and Golden Hoosier Passports are not valid at Indiana Historic Sites that charge an entrance fee.
Following are some very nice maps (printable PDF files) to help you plan your visit to Spring Mill State Park:
Spring Mill State Park Brochure (with Park Map & Info) – This is the informational brochure that is handed out at the main gate when you pay your entrance fee. It contains a map of the park and trails, a description of the park and trails, park rules and more.

Electric & Primitive Campgrounds Map – This printout has a map of the Electric and Primitive Campgrounds, plus detailed camping rules.

Youth Tent Campground Map – This printout has a map of the Youth Tent Camp area as well as detailed camping rules.
About Spring Mill State Park Weather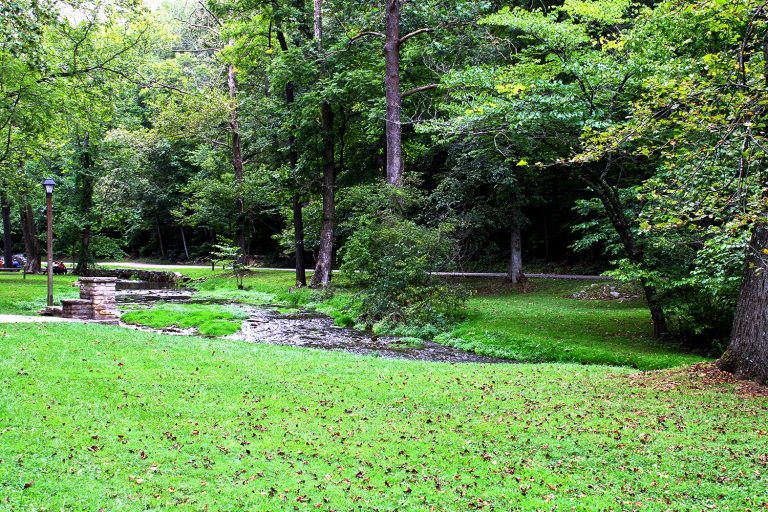 Southern Indiana summers are usually warm and humid, with rain always possible. Summer is the busiest time of year for the park.
Winters are cold and only occasionally snowy or icy. However, the park is not very crowded, and there is still great hiking and other fun stuff to do.
Spring and Fall are more temperate, though temperatures can fluctuate wildly, and rain is always possible. The fall colors at Spring Mill State Park are beautiful, though, and spring is equally vivid with the bright green trees and flowers in bloom.
Click the banner below for a more detailed weather forecast for nearby Mitchell, Indiana:
About Spring Mill State Park Rules
Spring Mill State Park is for the public. All visitors are expected to observe the following rules which are designed to fulfill the purpose for which state parks were established, namely, to preserve a primitive landscape in its natural condition for the use and enjoyment of the people.
Do not injure or damage any structure, rock, tree, flower, bird or wild animal. Do NOT gather limbs, brush or trees (either dead or alive) for firewood! They MUST be allowed to remain to rebuild the natural humus.
Any firearm (except validly licensed handguns), BB gun, air gun, CO2 gun, bow and arrow, or spear gun in possession in a state park must be unloaded or un-nocked and stored in a case or locked within a vehicle except when participating in an activity authorized by written permit.
Dogs and cats must be kept on a leash no longer than six feet and attended at all times.
Vending or advertising without permission of the Department of Natural Resources is prohibited.
Camping is permitted only in the campground. Youth groups must be under adult supervision.
Fires shall be built only in spaces provided.
Please comply with the Carry In/Carry Out trash policy in all day use areas. Overnight guests must put waste in receptacles provided for that purpose.
Motorists will observe speed limits as posted, and park in designated areas.
Swimming is limited to the swimming pool only. Swimming is not allowed in Spring Mill Lake.
Drinking water should be taken only from pumps, hydrants or fountains provided for that purpose. This water is tested regularly for purity.
Report lost or found articles to the park office.
All motorized vehicles must remain on paved roadway. Snowmobiles are prohibited.
Use of metal detectors prohibited.
Park closes from 11:00 PM until 7:00 AM, and no one is allowed in the park between these hours except for overnight Inn guest and campers.
Please let wild animals remain wild. Feeding deer is prohibited. Feeding of all wild animals can result in harm to both animals and people. Animals that depend on handouts become a nuisance to park visitors and a danger to themselves. Please lock up all food and coolers inside cars or campers.
Please stay on marked trails.
Gold prospecting is not permitted.
Commercial filming and photography allowed with permit. Instructions 
Motor-driven airborne devices (RC airplanes) should be operated in designated areas only or with clearance from property management. Drones are not currently permitted on DNR properties.
Use of DNR Property by Private Organizations: Special Events Permit/License. If an individual, business or other group wishes to host an event such as a public meeting, parade, contest, competition, sporting activity or other special event or activity on a DNR property, that individual or organization must obtain a Special Events Permit/License as required by 312 IAC 8-2-15. The application for a license/permit can be obtained by contacting the property manager of Turkey Run State Park. The application should be completed and submitted for review at least 30 days prior to the event, and must be approved prior to any publicity for the event. An application fee of $25 is required, and additional fees may apply depending on the nature of the event.